Do you like Hot Rods like i do?

Have a favorite car memory?



My first two 'Official' cars...a 55' Pedal Car and a '58 Metropolitan.

The 'Met' was fully restored; had metallic and white inserted 'Tuck n' Roll' interior, a metal-flake blue paint-job and ate VW Bugs fer breakfast! I paid $250 for it which I earned mowing lawns for blue haired old ladies.

I ordered parts from England to get her up and running and crashed her in a race with a '57 Chevy...piloted by Ken Oliver. Ken turned left and went up on two right wheels and I turned right to keep from going under him...but I didn't see the ditch until it was too late to back out...the steering is bolted to the uni-body inner fender on the Mets. It couldn't be repaired enough to be safe without more money than I had...so she went in trade for the '62 Chevy II; white with red bucket seats and three speed.

We went from the Met to a '62 Chevy II, '65 LeMans, '66 Caprice, Army 2 1/2 ton diesels, '78 Trans Am, an extra '69 LeMans, MG tow vehicle and the '78 Silver Anniversary Vette.

Finally we settled on old Sidekick...my '38 Master Deluxe Chevy Coupe...

My favorite times were in my 1965 Pontiac LeMans; shown here in 1970. I almost went to Woodstock in this car; but, I settled for waiting on the movie at the drive-in theatre and summarily got bounced out of there when my girl-friend and I went to sleep in the back seat and woke up naked with a security guard shinning his flashlight on us...LOL! Ain't no days like those old days...and I'm damned lucky to have survived 'em...just like you are!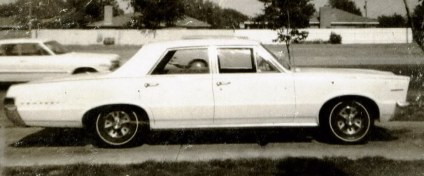 Hot Rods are just one of my interests. But, as far back as I can remember I have been captivated by anything with wheels. Many of you feel the same way. If you have photos send them along with some info or stories. we'll try and get as many of them posted as we can. My strongest passion is for old Coupes. Where I came from; they pulled off the fenders, tacked in a roll bar or two, chained the doors and called them Sportsman Class Stock Cars. These were the forerunners to the Modifieds, Sprints, and The World of Outlaws back in the 1950's and early 60's. My Hot Rod is a '38 Master Deluxe Chevy Coupe with a 327, Edlebrook Highrise, 3:56 rear-end, and Muncie 4 speed. I still have miles to go to get it to where I want it. But; I am trying like many of you are. It's a long and winding road to get where you always want to be; and costs mucho bucks!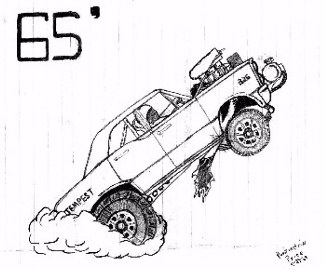 My '65 Tempest...sort of...
Some of my early Hot Rod Art from 1969
Drop me a line if you made it this far; or send along your photos and info to TexasFazdraw@Cs.Com; For now; Click on my home page link above and read through that page clicking on the under-lined links.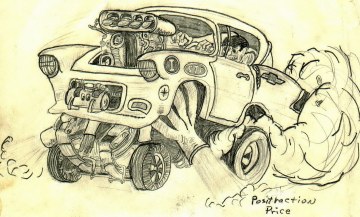 This was my standard 'Car-toon' which I drew on everyone's T-shirt
and practiced on at school...circa 1969...note; 'Positraction Price' LOL!
Thank U' all for stopping by
Bobby Price

Brian Kent Patterson - Pit Crew
"...Some days are diamonds...Some days are stones;
...Some days; a hard time won't leave me alone..." (John Denver)