KART Racing

Kart Racing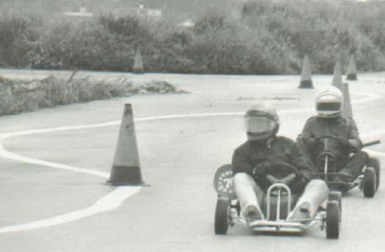 This was my USA 200th Anniversary year racer on Okinawa in 1976.
This Bug-Kart and I went to the Third Place spot in the Okinawan Championship and landed me an offer from RKK Shipping Lines as a sponsor for the 1977 International Kart Races in Hong Kong. But, I would've had to stay on 'The Rock' another year.
After spending 2 long years traveling no further than 25 miles at any one time at 25 mph top end speed; except for the times I raced my Kart races..
I tell you I really needed to go Stateside...and soon!
Thank You
Vietnam!
This Kart along with a dozen others or more came from Special Services in Vietnam.
When the US pulled out; they boxed everything into huge containers and shipped them off to Okinawa.
These karts landed on Oki and were sold at public auction for $100-$150
...their value was far greater than that for all of us!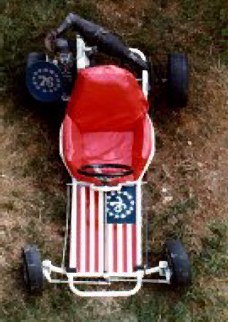 In the Spirit of 1776; I opted for the Red, White and Blue scheme that gave me the number...76.
I wet-sanded the frame down to metal and painted it with porcelin appliance paint during the winter months.
I cut the decals out of masking tape and poster board; painted the number plate blue with stars around the edge and used it as an oil deflector.
I sold the Kart to another soldier on Oki and hope she is still racing there today!