Jimmy Buffett

This site is a Registered Affiliate of ParrotHeadQuarters.Com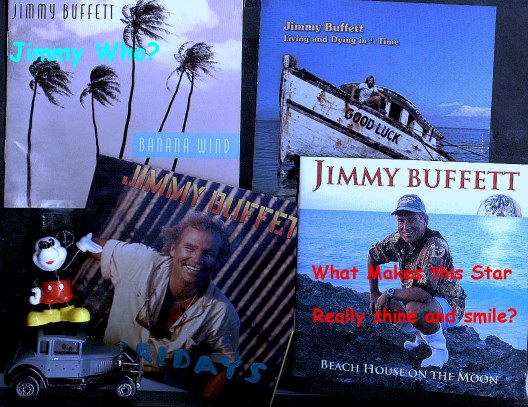 What Makes Jimmy B. Good...
by Bobby Price
What is it about Jimmy Buffett that makes him one of the number one concert draws in America?
Well, his allure goes beyond Beaches, Bars and Broads and reaches into the collective soul of the adolescent within us all. Buffett has that unique ability to capture snap shots in a few words and cliches that instantly transport us through time and space to where we've been; and to the distant realm of possibilities of where we might just wind up...good and bad...
Buffett's music is the rhythm of the streets, beaches and jungles; the mundane and the exotic capture his imagination with equal charm and enthusiasm and he can turn a simple phrase about almost anything into the Landshark National Anthem! He appeals to the pirate in us all who wants to cast the world aside and yet; a pirate who would someday like to come home and see how everything wound up without him...
Buffett's music is deep and reflective and will twist and turn on every dime and give you change to think about for a long time. Over the past few years I am amazed at how 'new' some of those sounds resonate even yet.
As a Disc Jockey I always worked in a few Jimmy Buffett tunes despite Music Director's who would take the records from me and toss them in the trash.
I was first turned onto Buffett and his "White Sport Coat and Pink Crustacean" album while in the Army...by an ex-hippie from Florida dubiously named; Doug.
But, I never knew the depth of the artist until introduced to the Wide Wide World of Buffett by my friend and Buffett guru; John Vaughn...
John told me to get some Buffett CD's or Tapes and just listen...and thank goodness I did...
I suggest to you out there in NetWorld...go get some Buffett...if you do not already have some choice pieces on hand.
I can't really define what it is about Jimmy B that tugs at your inner peace and strength; everything I have said or think about the sounds fall far short of the effect I am trying to describe. But, after driving hundreds of thousands of miles and listening to Jimmy the B I can honestly say that his music never got stale or failed to get me on an even plane of positive thinking...
I listen to JB now while I work on my cars and I really like to listen to his music when I paint...somehow, JB touches memories long buried and tucked away...and those memories seem to appear at opportune moments; something you might not be able to do by yourself if you tried...I am too round to do Yoga.
JB's sound's roller-coaster you through the emotions; and if you have had any hard times (as if we all haven't) then I really really recommend....take two Jimmy Buffett tapes to bed with you...and email me in the morning...you'll be surprised...
Listen to 'Dr Bob' I know what's good fer ya'...this is a real Stress Reduction Remedy tested by millions of Parrot-Head's the world over!
I recommend a strong dose of; Come Monday, Railroad Lady, Floriday's and a bowl of Barometer Soup...and don't forget If the Phone Doesn't Ring it's Me...just for starters...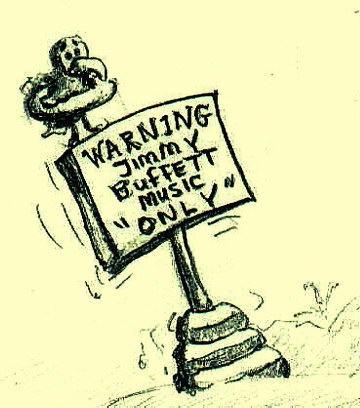 Peaches
Can you imagine...?
If you were going to draw a picture of 'your' island of dreams...what would it look like?