Midnight Streaker's of America



Arizona's #1 CB Radio Club

Member #'s range from 1 to over 7000+

The smaller the number...the earlier the membership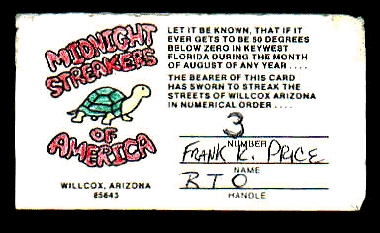 Well Traveled CB Radio Card....all 48 States and the Provinces of Canada



Tombstone, Arizona Territory
Most of you have heard about Tombstone Arizona; either in the movies or in the hundreds of books that mention the name. My last duty station in the Army was Fort Huachuca which is about 29 miles south-west of Tombstone. From Ft. Huachuca they launched expeditions against Geronimo and Chochise...but; not while I was there...
I made my home in Tombstone. I worked as a communications clerk at USASATEC for the Army Security Agency; and then worked at the Tombstone Printers off duty. My first job in Tombstone took me to the offices of The Tombstone Epitaph where I made plates for the printers printing press.
While in Tombstone my CB 'handle' was simply 'RTO' (radio telephone operator).
I was lucky enough to make friends across the area and met the Humphries family in Wilcox Az, and we helped form one of the largest CB Clubs in the Southwest; The Midnight Streakers of America.
In 1999 the Streakers numbered over 7000 people. Everyone that joins is given a number and mine is Midnight Streaker Number 3, In 1999 , I met Streakers with numbers above 7000. Some notible Streakers include; First Lady Betty Ford who used the CB handle 'First Mama' and Rex Allen.
Warlock out of Wilcox is Number 1, and Fallen Angel was Number 2. Warlock, Fallen Angel and I greeted Rex at the Wilcox Rex Allen Day Celebration in 1976 and officially made him a member.
These people of Arizona are some of the best people in the whole country and I miss them.
If you are out that way or passing through Wilcox then hop on Channel 23 and tell 'em RTO said 'Howdy Hi; and 3's and 8's...they'll know exactly what you are talking about. Ask for Witch Woman or Warlock (jr.)
Here's my CB 'QSL Card' from the late 70's, my Midland Mobile and my CB Radio Set-up which I operated from my Squad Leader room in the Army Barricks at Ft. Huachuca Arizona. When we talked 'skip' we exchanged addresses and cards; and my walls were covered with 'mail'...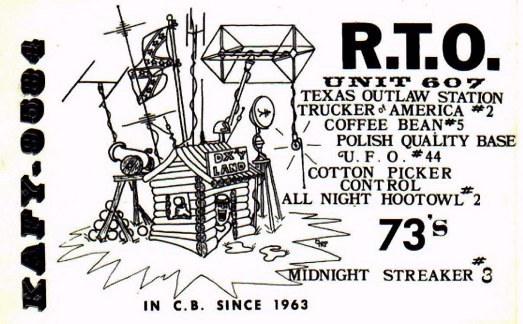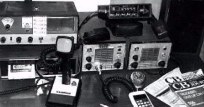 RTO Mobile left and RTO base setup in early 1977
in the Barracks at Ft Huachuca just prior to discharge
History of the Midnight Streakers
The MSA CB CLUB was started in Sept. 1976 as a practical joke between Warlock, Fallen Angel, and RTO.
The club was formed in Willcox Arizona. RTO lived in Tombstone.
Warlock was a famous practical joker in the area and well loved by all. Fallen Angel had been pulled into many jokes at her expense and she was careful in dealing with her favorite CB buddy; Warlock.
RTO in the meantime; ran a base station out of Tombstone and his radio could reach across the Dragoon Mountains from Tombstone; due to buried car bodies in the ground below his antenna.
Late one night RTO heard Warlock and Fallen Angel teasing each other; finally Fallen Angel moved to another channel and started a new conversation.
RTO called for a 'break' and Warlock responded and was amazed that he was talking to Tombstone as this was rare. The conditions were perfect.
He and RTO struck up a friendship immediately. And RTO being an old hand in CB's quickly sided with Warlock to gang up on Fallen Angel.
Warlock said he'd go get Fallen Angel as she had always wanted to talk to Tombstone over the mountain range.
RTO waited until Fallen Angel could be brought back on channel and he waited and he waited...
Finally RTO switched over to Fallen Angel's channel just in time to hear Fallen Angel tell Warlock that she would go talk to Tombstone....but she was cautious as Warlock probably had been telling RTO she was a 'Streaker or something'
RTO went back to the home channel and waited and when Fallen Angel came on board he asked her for a 'Midnight Streaker Number'...blaming Warlock of course (LOL!)
Warlock Jumped in and said he should get the first number; Fallen Angel was dubbed second and RTO grabbed the third place spot...
From that conversation grew 69 numbers which were given away that night...everyone wanted to be a 'Midnight Streaker'...within days a 'Turtle' was adopted as the 'mascot' of the MSA Club and a card drawn up which says:
"Let it be known. That; if it ever gets to be 50 degrees below zero in Key West Florida during the month of August of any year...The bearer of this card has sworn to streak the streets of Willcox Arizona in numerical order..."
That joke was over heard by some truckers and other residents of Willcox and within a week there were over 200 members.
Soon the ranks swelled to over 1000+. A covered dish dinner was held in Willcox at the Community Center and the rest is history...as they say!
There are now 7000+ plus members in the MSA Club solely dedicated to fun and enjoyment of friendship and the CB Radio. We purposely have no formal agenda. This is one place in the world where everyone can 'just get along'.
Members reside in all 50 states plus several other countries.
We have members from all walks of life( preacher, firefighter, custodian, movie star, ex First Lady Betty Ford and of course Truck Drivers...)
Present
The current officers are:
President- Warlock #120(son of founder),2seo120
V.President- Cactus Pete
Sect.- Witch Women #13
Club membership has always been free and always will.
Donations are accepted and used for the cost of stamps, stationary, membership cards, etc.
For membership e-mail: Pricegraphics@Aol.com
Fund Raising
The MSA Club holds fund raisers occasionally. Half of what is raised goes to a selected charity. The other half is used for promotion or is donated to other charities in Arizona.
Charities:
Willcox Against Substance Abuse
D.A.R.E.
Frequencies
MSA operates on:
27.255 am (channel 23)
27.485 lsb
And MSA has helped with Searches for missing children, aided the police in highway accidents and many of our members are Volunteer Firefighters, The MSA Club has been active in running parade routes and is dedicated to community service and action in the Willcox Az area.
Member Web Sites:
http://expage.com/page/mylink
www.DarbyRangers.Com
http://HotRodShop.Tripod.Com/
http://PriceGraphicArts.Tripod.Com/
Members and Friends May list their Web Site here Free!
by e-mailing PriceGraphics@Aol.com: DarbyRangers@Aol.Com
This page dedicated to the Memory of Midnight Streaker #1
Earle Humphries of Wilcox Arizona