Biographical Information:

F.R. 'Bob' Price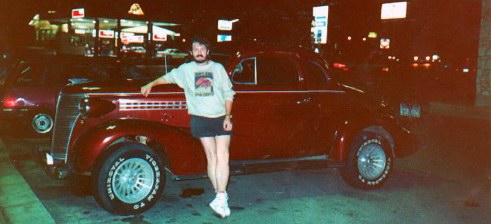 Bobby with his 'baby'... 'SIDEKICK'
Bob's interest in vehicles and travel began early. His first car was a '56 peddle-car worn almost completely out. From Snow sleds to bicycles, skateboards, motorcycles and cars; the early years were spent in motion. The family traveled extensively back and forth between Oklahoma, New Mexico and Texas along Route 66.
The landmarks of Texas Route 66 were familiar faces for the Price family. In the late 50's the Price's began a yearly summer exodus to Colorado and traversed the Eastern and Western Slopes of the Rockies extensively. From Amarillo all roads formed a hub of transportation.
Amarillo was the cross roads to America and caught up in the Rock a' billy movement of the 50's, 60's, and 70's.
"We always got a kick out the Route 66 TV show. That show and 77 Sunset Strip were the most watched TV shows of the day. Buddy Holly was from Lubbock just down the road. Elvis played the Civic Center. Jimmy Gilmore's hit song 'Sugarshack' was written about a soda stand in Hereford to the West. Waylon and Roy Orbison were south plains boys; along with Jimmy Dean from Plainview. We were a group of kids in constant motion from the 1950's thru the 1970's, " said Price, "And our music rocked and rolled with the times."
"You could have taken American Graffiti," Bob said, "and filmed it live on the streets of Amarillo up until about the mid 70's with no problem. We lived in a vacume about 10 to 20 years behind the times...Thank God!"
When Bob became a DJ down on the South Plains he instituted a 50's and 60's Friday and Saturday Nite Cruising Show on a here-to-fore all country radio show; he rocked the plains to the strains of Buddy Holly and the Cricketts, Jan and Dean, The Beach Boys and the hot rod, surfer, biker music of the good ole' days.
Bob's father was an engineer on the Santa Fe and trains and train travel under a 'free Santa Fe pass' were common events. When possible Bob was sneaked onto the engine and spent many days and hours riding the rails with his father; blowing the horn at the road crossing and asking a million questions.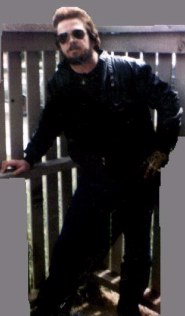 Bobby as Bouncer and DJ at Cheers Amarillo
In 1990 Price achieved a lifetime goal of hiring out for the railroad; making him a fourth generation railroader in his family.
"Texas Southern was my chance to prove something to myself. I couldn't pass up the opportunity," said Price.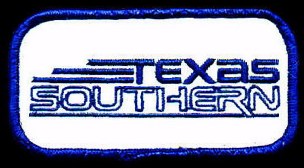 Texas Southern Uniform Patch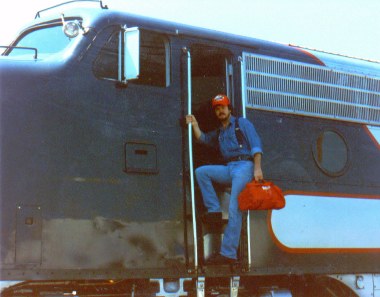 Climbing aboard lead engine TS 100
At the end of 1992; Texas Southern laid off all their crews. Bob continued his DJ work in San Antonio.
At the same time Price met the publisher of the Medina Valley Times; Pat Ramatowski.
Pat pressured Bob to leave the night club business and the railroad and edit the bi-weekly paper. When Texas Southern closed up shop Price called the Times for a job. Their Editor had recently quit and Bob became Senior Editor of the Medina Valley Times.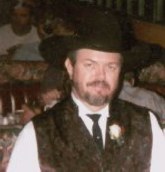 Bob Price
Using his investigative skills and his editorial talents; Price helped to completely purge the Devine Texas area of a city government which had been accused of misfeasance and malfeasance of office.
Price said; as an example; this was a government which had misused it's public trust by using un-bonded paving companies and sought to run rough-shod over it's citizens by forcing acceptance of city streets that did not meet minimum standards. It was also a government which did not fully staff ambulance services and tried to cover up that fact which resulted in further injury to the public. These were just to a few of the problems being experienced in Medina County and particularly Devine.
The Medina Valley Times was instrumental in changing the course of politics in the area.
"Devine owes gratitude; not to me; or any other writer; but owes that gratitude to Pat Ramatowski...a publisher who had the guts and courage to risk everything she had to help turn that city around. My role was small compared to her giant steps, over a twenty year period I think Pat lost almost everything she had fighting a corrupt governing body," said Price,
"I am not sure those people in that area are aware of her efforts; nor do they appreciate the fact that she gave up much of her life for them. It was a thankless business; Pat was and is one of my hero's," said Price.
Bob covered County and City Government and wrote lead editorials and feature articles. Devine eventually received a new city manager, mayor, several new city council members and a more responsive government.
"The newspaper sold," said Price, "and my time in the saddle was up...I had my moments in the sun; 'Have Pen...Will Travel...' you know," he laughed.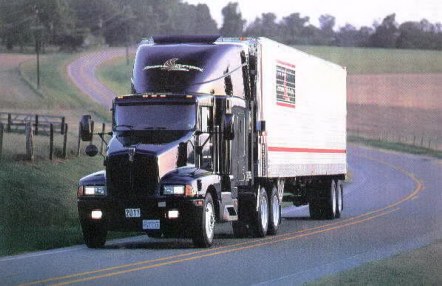 In 1993 Bob became an over-the-road Truck Driver and Certified Truck Driving Instructor for Stevens Transportation of Dallas Texas; partly so he could see the country. He intended to stay at Stevens for six months and wound up staying for more than 6 years!
Price received his two, four and five year longevity awards; becoming a Senior Driver, a member of the Presidents Club for Safe-Driving, achieved his 6 year National Trucking Awards for Safety and his 5 year 1. Caret Diamond Stevens Transport Medallion for Dedicated Service.
T-600 Kenworth Five Year Award Stevens Transport



Truck # 1977 Senior Driver 'The Buzzard Fleet'




Price's Steven's Uniform Patches
In 1999 Bob left Stevens Transport so he could be home after being gone most of seven years! He has Logged One Million Plus Miles in his commercial driving career when you consider his commercial experience which began in 1969 as a delivery driver in one of his first jobs.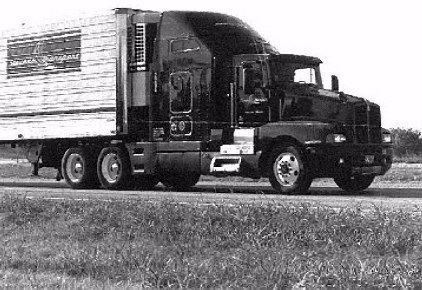 Stevens Transport Truck - Photo by Lupe Torrez
Bob left behind more than a half dozen professional truck drivers he personally trained at Stevens Transportation.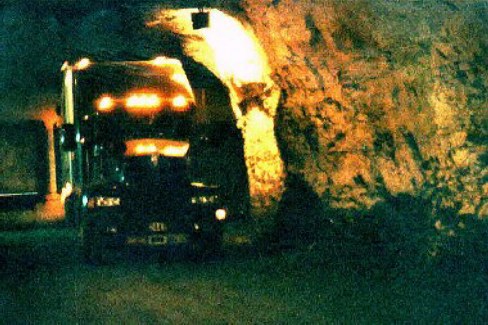 The Bat Cave...Bob's CB Handle while at Stevens was Batman. Here's the 'Batmobile'
delivering a load to the under-ground limestone caves near Kansas City Missouri; this
cave is more than a 1/2 mile inside the mountain; is 635 acres of storage and provides constant storage temps.
Price currently pursues his photography, art and writing projects independently. He is concentrating on rebuilding his 1968 Ford Ranger and updating his '38 Chevy. He dabbles in truck driving from time to time; and he is single.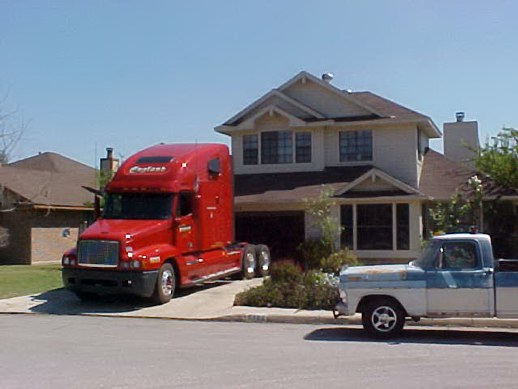 Bob's 2001 Freightliner and his antique pickup at home in San Antonio
Bob Price enjoys camping and fishing as a hobby. You can contact him at