Once upon a time...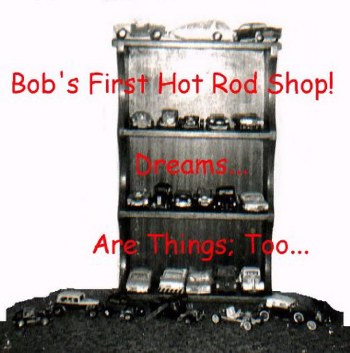 This is my car history
minus a slew of rice-burner sedans my wives (sic) purchased...
1968
My first car; a 1958 Rambler Metropolitan...
Metal Flake Blue with blue and white tuck n' roll interior.
With it's 1500 cc engine I used to terrorize VW's...and Corvairs.
I used to have to walk home from driver's education in my 15th summer...
I saw the Met parked in a service-station and managed to buy it for
$250...money I earned mowing lawns and working around the Roadway
Inn in the flower beds; The Met came with no interior...I spent the rest
of the summer restoring the little critter; my brother-in-law was an expert upholstery man and by my 16th birthday in October I was burning up the road; by the next summer I had nearly run under a '57 Chevy in a dirt lot pile-up; I
turned right into a cloud of dust and T-Boned an 8 foot ditch...
1969-1970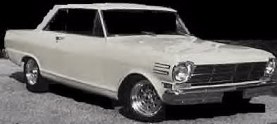 My next step to freedom was a 1962 Chevy II Nova; white with
red bucket seats. She served as 'taxi' for our Sea Explorer Unit.
The Chevy II was beaten to pieces a few months later by 'soft-ball
size' hail. Every glass was cracked, all trim was beat down, the
mirrors were broken out...and I was just sick...this was 1969...and
the car before-hand was mint...I settled with Member's Insurance
for $750 and got to keep the car.
1970 - 1972

The Love of my high-school days was my '65 LeMans...the Chevy II, the insurance money and $300 more dollars brought the car home. My dad found it...called me at work at the Rodeway Inn and told me he had traded for the LeMans...I didn't know what to expect...but fell in love with the power of the little 326 motor. The first thing I did was remove the floor mounted A/C unit and compressor; sound modifications from Radio Shack were added and a Johnson 'White-Face' 6 channel CB radio...I wore the car completely out.

The Pontiac went in trade for my 1966 Chevy Caprice with
a stock 327 f.i. motor...lite yellow with a black vinyl top, two
small pin stripes, black tuck n' roll interior with silver buttons
wood grain dash, tilt wheel, am/fm, eight-track tape and a
new realistic 23 Channel CB...I swapped out the stock wheels
for American Racing Wheels (what I call an 'Astro' pattern). A
farmer had owned it and it had been garage kept; with two of the
four barrels on the Quadrajet Carb shut off...I made it scream...
The Caprice fell victim to an ex-wife who sold it while I was in the
Army over-seas...for...(can you believe it)...$250.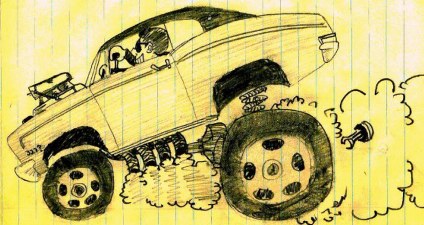 ('66 Caprice; Bob Price Artwork 1972)
1973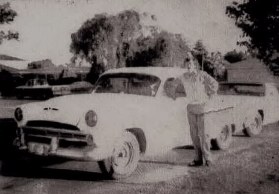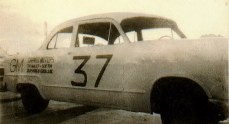 You want to get sick; now...or, after I tell you this story...
Above is a 1953 Dodge Coronet Coupe...hold on...it was
destined to become a demolition derby car...(yikes!).
Bought out of a wrecking yard for $75.00 in running condition
all original parts, glass, orginal interior, orginal paint and a very
strong 318 Red Ram motor that you could stand a nickel on the
motor and it wouldn't fall over...it had no title...and; the floor board
was rusted thru around the master cylinder access...the clutch
return spring broke in the race...and I lost because I 'timed out'
before I figured how to make it move...a rambler station wagon
flattened the whole right side totally exposing the right front wheel
axle and subframe...dumb...dumb...dumb!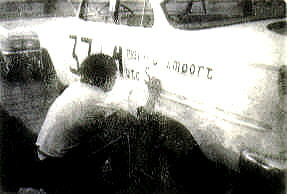 A little house paint and art work...
1974-1977 US Army...




1978-1980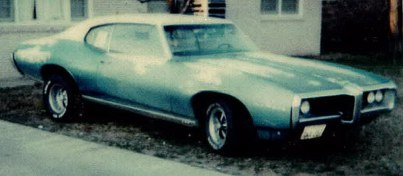 After the Army...I still had my '68 Ranger pickup and managed
to find this lonesome '68 LeMans sitting in a drive-way...I tried to
buy it for 2 years...and finally was able to get it just as it sits in
the photo for $35 and an old washer and dryer. It wouldn't run
and wouldn't shift and I towed it home; messed around with it and
found that there was no ground on the engine...it had grounded
itself thru the shifter cable; welding it solid; $6.95 and an hour of
tinkering later...she was up and running...and I drove it for 2 years.
1980-81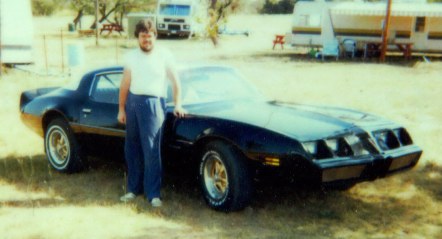 My '78 Trans Am shown here at my lake home at Lake Brownwood
was next in line...this car was purchased by a Buick dealer as his
personal car; and he was in the process of a custom paint job when
he and his wife in another car had a head-on collision and both died.
My ex-wife found it on the back row of the car lot and made a bid for it
with the estate sale...she bought it to partially make up for the Caprice fiasco.
The Trans Am was a great car; the birds were removed and I gold-leafed on the rear sails and back of the spoiler with my trade-mark cattle brand...a rockingdiamond P...don't feel too good about the ex-wife...she still had the
Pontiac in her name and traded it in our divorce on a Ford Escort! Go Figure!
1982- 1988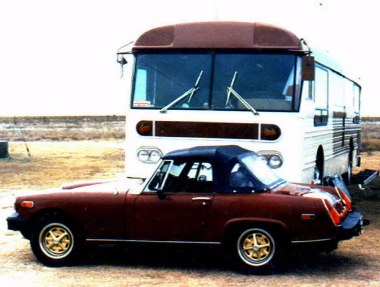 The MG...this little character was aquired as a tow vehicle
for the Bus in the back-ground; completely rebuilt and was
to become a daily driver at times. Click on the MG and it'll
take you to our past projects page...

Every divorced man in America should buy what I bought next...my 1978 Silver
Anniversary Edition Corvette. Not only was the Vette the ultimate in freedom but
it attracted a lot of attention from the ladies...Everyone should own a vette or two but; the down side was electrical 'ghosts' and every damn thing that went wrong on it cost $250.00...the cigarette lighter could quit working and it would cost $250.00...like that lawyer said in that Bush legal case..."It was like being
pecked to death by ducks!" and further; in South Texas; it still attracted the girls but also every dope head and goof-ball for miles...it became a nuisance. But,
click on the Vette above and it'll take you to the 'Ultimate Road Trip'.
1989-Present...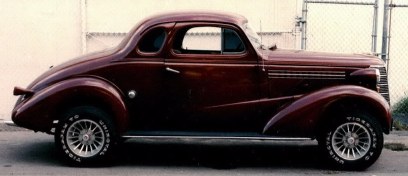 It only took me nearly 40 years to get there but buying this '38
Chevy was the ultimate dream car come true for me. I idolized
the drivers of these Coupes on the dirt-tracks at home where
they called open wheeled coupes 'Sportsman Class Stock Cars'. They ran fender-less and I never could get them out of my head...I was working for
TS Railroad and I was underneath a rail car when I saw this coupe
bounce into the parking lot. I knew it would be mine.
I traded around and came up with the car. It has a history I know going
back to 1947 and was purchased by two brothers. The car had a dented
right front fender from hitting a tree and was sitting in a barn.
My research shows that it was a 'jaguar green' in color...the boys took
the car home and both of them drove it thru junior high and high school.
It has been at least 3 to 4 colors and any number of engine configurations.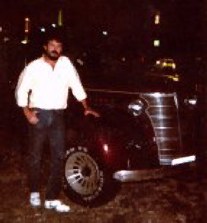 I named it 'Side-kick' taken from the Felton Book 'Hot Rod' of the early 60's.
The Coupe is powered by a 1963 Chevy Impalla 327 f.i. motor, highrise man-
ifold, 4 Speed Muncie, 3:56 rear-end, dual side pipes, 1981 Toyota Bucket
Seats, over-head console with Kenworth Toggle switches. AM/FM Tape and a
CD Disc Player, a straight axle front end configuration with 13 inch tires on the
front and 14's on the rear. Right now it is awaiting a brake up-grade...and sits patiently while I finish re-building the 1968 Ranger I drove off the show-room floor in 1969...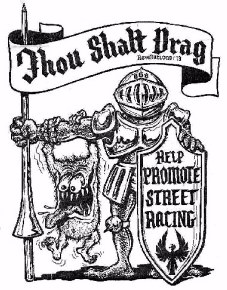 I really don't support 'street racing'...there are safer places for that kind of sport
but I have been carrying this art around in my files since 1968...have no idea where it came from...but it was widely copied and spread around to us all...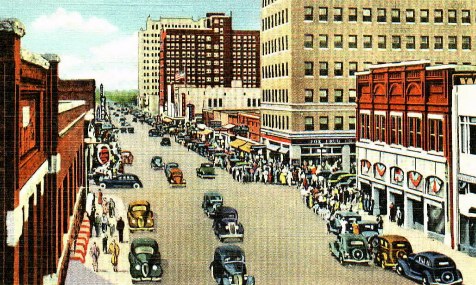 My home-town drag; Amarillo's Polk Street; but...circa 1938;
virtually nothing changed except for stripes and traffic lights!
Where was my '38 Coupe when I needed it...probably sitting in
a scene just like this one...and painted a dark green.