Corvette Heaven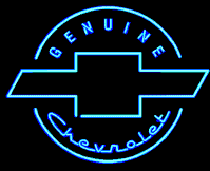 Think of your Ultimate Dream Road Trip And Then Go
...If you are Brave enough!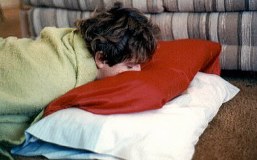 Road Trips can be tiring!
What would be your idea of the coolest road trip you could imagine? Where would you go?
What kind of a ride would you choose to take you?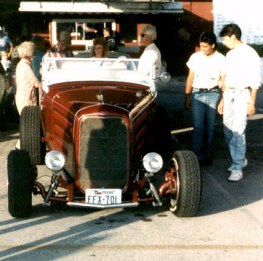 "You don't think that Old Lady owns this do you?"
Planning and dreaming

" If you can't run with the big dogs...you better stay on the porch..."









My favorite places of escape are in the Rocky Moutains of Colorado.
Beginning in the mid-50's my parents began taking the family to Colorado for vacation. Locations like Glenwood Springs, Montrose, Blue Mesa, Grand Mesa, Gunnison, Leadville, Buena Vista and Salida stand out. And favorite fishing spots of the railroad bridges of the Arkansas River, Twinn Lakes, O'Haver, Deep Lake, Colorado River, the hundreds of lakes on the mesa's and dozens of small lakes and beaver dams strung-out all along the Eastern and Western Slope.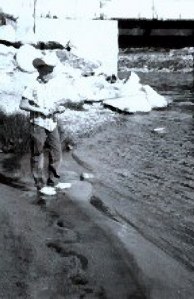 Bob along the Arkansas at Fisherman's Bridge near Buena Vista about 1966
We traveled to Colorado every year from 1956 until 1972. I took a life-time off for the Army;and came home in 1977. I then made the trip in 1979 and two trips in 1981 and then again in 1982.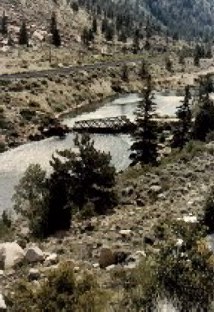 Colorado bridges hold plenty of Trout along the Arkansas River Valley
Then in 1993 I began Long Haul Trucking and routed myself over the same area from 1993 til 1999.
Colorado was a little diffe-rent in an 18 wheeler; and much more dramatic; for one thing you can see more! And, if you don't like high mountain roads; this was not the thing to drive! I loved it!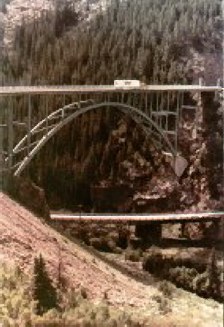 An 18 wheeler on Hwy 50; the lonliest Hwy in America
Now, Colorado has fine roads and guard-rails but in the 50's and 60's most of the famous roads were dirt; and only had pull-offs where two vehicles could safely miss each other. The state was still only a bit more improved than a wilderness away from population centers.
Famous passes like Wolf Creek Pass, Independence and Monarch; just to name a few; were sim-ple logging roads. These are roads I remember well; and that is where I set my sites for on my ultimate road trip.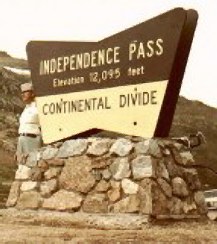 The Details of the Trip:
Cars: Corvettes
Time: Unlimited
Destination: Unknown
Direction: Into the Rocky Mountains of Colorado
Drivers:
Bryan K. Patterson
Bobby Price
Bryan Kent 'Shark Reports' Patterson: Texas Radio and the Big Beat
Music: Jimmy Buffet and the Eagles
Lodging: Tents
Time of the year:
June thru August
Temperatures:
+18 night-time +77 day-time
Heat: Campfires
Beverages: Colorado-Cool-Aid, Scotch, Jack Daniels Diet Coke and Root Beer and one final six pack of Dr. Pepper from Texas!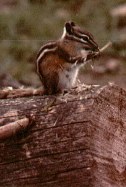 Visitors: Forest Rangers, Bears, Buzzards & Chipmunks

Goal: Road Trip, fishing, camping and most of all To Forget Everything!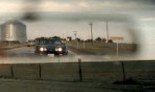 Leaving Texas; when we thought that happiness was Lubbock Texas in our rearview mirrors...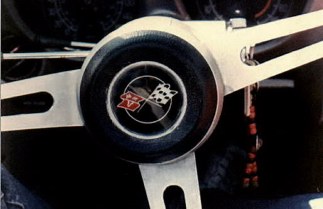 Wheels mean freedom!

"Follow in my wake...you've not that much at stake...

for I have smoothed the seas and colmed the troubled waters..."

(from the song 'Barometer Soup' by Jimmy Buffett)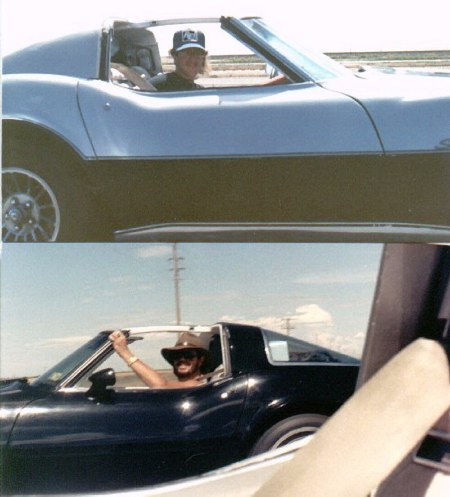 Dueling Corvettes; Patterson in his 'Silver Bullet' and Bob in the 'Bat-Mobile'. both photos taken in flight leaving the flat high plains behind;
next stop Amarillo, Dalhart and Clayton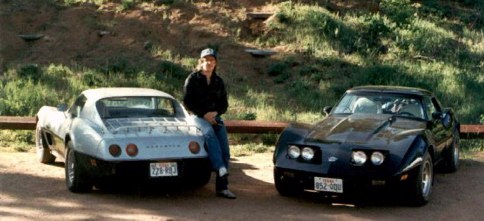 Bryan Kent at Lake Isabelle in the mountains above Pueblo Colorado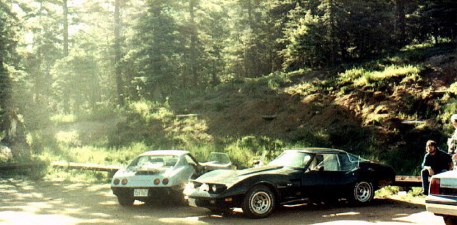 Bobby answering some of the many questions about the cars as the morning light filters thru the pines. The two Corvettes garnered alot of attention from people of all ages.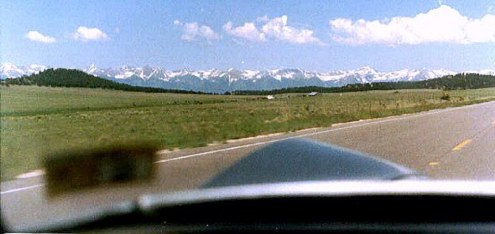 First views of the Sangre de Christo Mountain Range from the Westcliff and Silvercliff area; from Clayton we headed to Trinidad and over Raton Pass then cut north westerly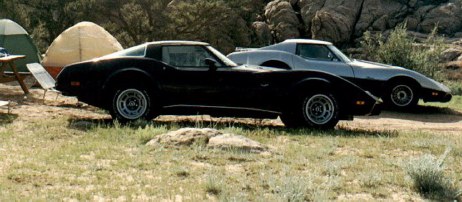 Camp at O'Haver Lake located on 'Old Marshal Pass' west of Pagosa Springs just West of Salida Colorado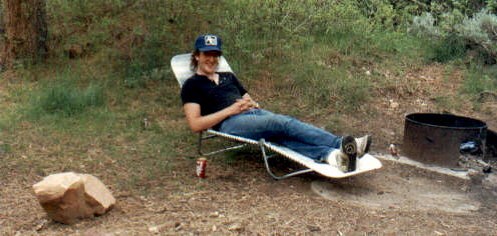 Bryan Kent doing what he does best; finishing his last can of Dr. Pepper; no Dr. Pepper's were sold in Colorado; and for early morning 'peppers' this was a real bummer! LOL.

Fisherman's Bridge south of Buena Vista Colorado near Nazareth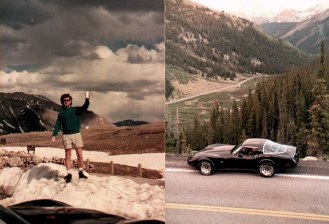 Bob on top of the Continental Divide on June 26th
and the Vette on the other side of the same mountain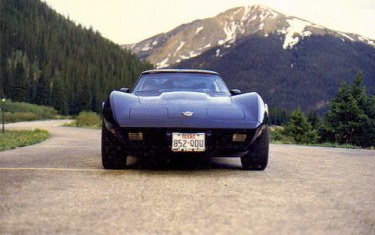 Bob's 'Bat-Mobile' the 1978 Silver Anniversary Edition Corvette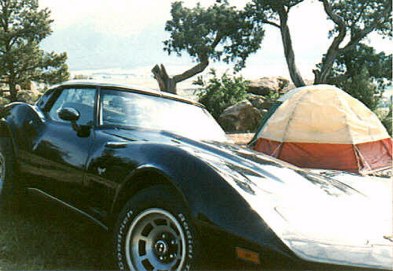 Mountain Camp; over-looking Buena Vista Colorado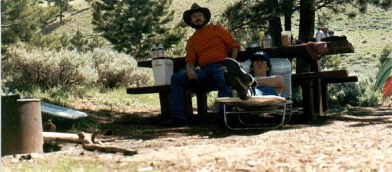 Self portrait's; the camera perched on a rock...timer set...
Snap!...'It's the hole-in the wall gang...'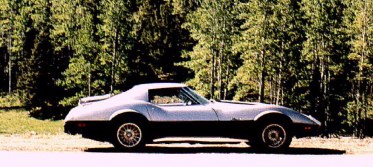 'The Silver Bullet' in repose. Later, she survived being rear
ended by an 18-Wheeler near Denver Colorado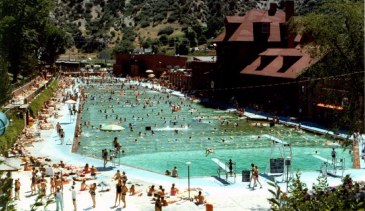 The Hot Springs at Glenwood Springs Colorado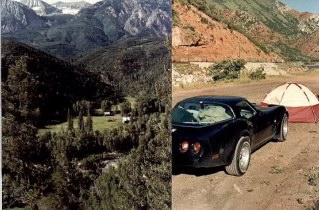 High mountain vista with cabins and a Glenwood Canyon Camp
along the Colorado River at West Glenwood Springs, Co.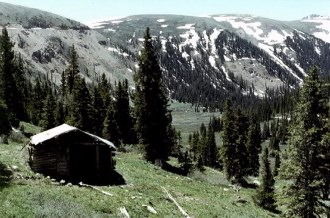 A cabin just below timber-line upon Independence Pass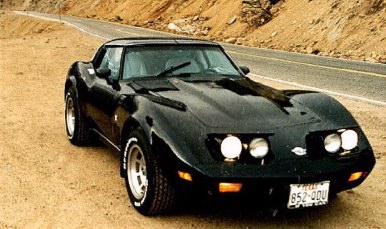 Snow-Vette; July 4th on top of Independence Pass;
the white flakes between you and the car are snow-flakes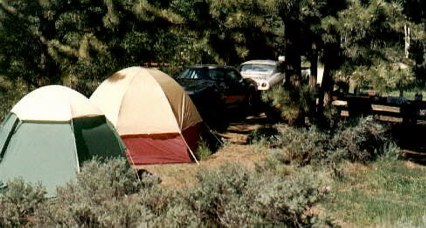 High Country Hotels; No lights, no phone, no heat, no bed...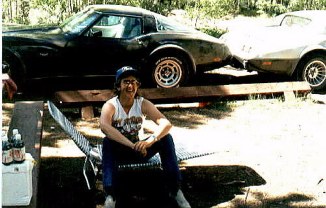 B.K.P. caught on film; feed him a little Jack and Coke and
everything seems funny...sort-of!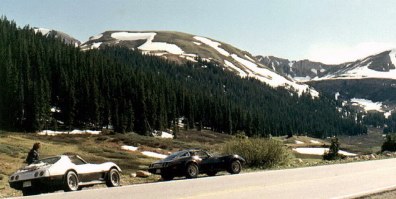 Bryan Kent and I split up for the remaining weeks of the summer; he
went to his cousin's in Denver (where there were too many girls)
and I faded into the country-side where I could get away from them for
awhile. PEACE AT LAST......LOL!
(Remember: An Old Cowboy once told me; No Matter How Good Looking They Are...Someone Somewhere is Sick and Tired of Them!)
I made my permanent camp along the waters of the Arkansas River
near the town of Salida one of my favorite Eastern Slope Hangouts.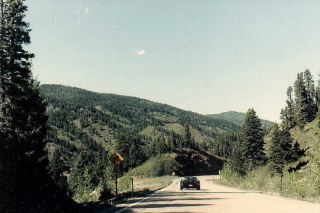 Adios Little Buddy...
See you in Texas in the fall with more stories to tell!
Alone along the Arkansas; the only local residents were; mountain
lions, chipmunks, trout, plenty of rocks...my Corvette and me. You
wind up talking to alot of clouds and things...

Rocky Mountain Home with personal drive, patio, patio furniture, front yard, rock retaining wall and view...the clear Arkansas River splashing in the background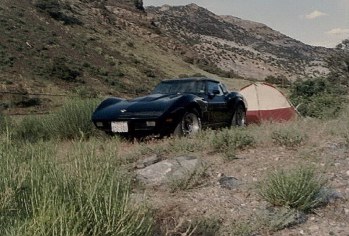 The Rangers came by and asked what I called this camp ground; my
answer: "...Camp Corvette..." of Course!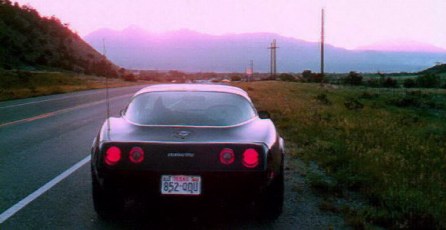 The Vette turned around to face the setting sun of the Rockies
one last time this trip around...
(all photos the property of Bryan K. Patterson and Bob Price; Copyright 1982)

The End
This trip dedicated to O. Joyce Patterson; whose kind help and understanding made this adventure possible