Tombstone, Arizona Territory
Ole' Blue in her heyday at home in Tombstone Arizona; the OK Corral is about 100 yards straight behind her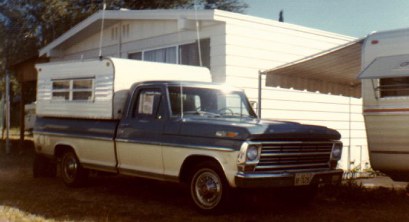 Most of you have heard about Tombstone Arizona; either in the movies or in the hundreds of books that mention the name. My last duty station in the Army was Fort Huachuca which is about 29 miles south-west of Tombstone. From Ft. Huachuca they launched expeditions against Geronimo and Chochise...but; not while I was there...
I made my home in Tombstone and Ole' blue never let me down once in the whole time I was there.

Home at Lake Brownwood; Bob worked as mid-day talent, music director, and feature writer while at KXYL and Q-104. Ole' Blue sports her grey fender and band-aid on the left front; token compliments of an ex-wife who mistook a Honda Goldwing 1000 as a spot in the road. The cyclist wasn't hurt and luckily no one else was.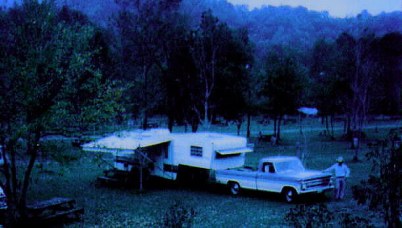 Ole Blue and the 5th Wheel in the Smokey Mountains camped in Maggie Valley N.C.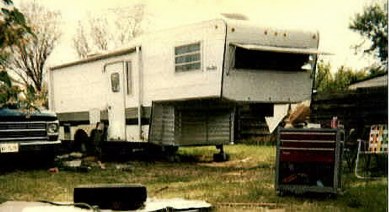 Fifth Wheel rebuild; Ole' Blue to the left awaiting a second motor. Note Box on the
front of the trailer which covers the Propane Bottles and serves as a tool box. The
tin in the fore-ground was used completely over the under-frame on the trailer and
1 1/2" insulation board installed...you could heat the whole trailer with a hot-plate.