Ole' Blue; Ole' Blue has sat patiently at rest waiting her turn at getting a new lease on life. Rust was winning and it was this year to fix her or she'd have to 'rust in peace'...

forever more!



First we purchased the donor truck then we took em both apart...the easy part!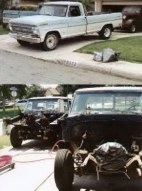 We took all we needed from the 'donor truck' then we traded the spare parts for the help needed to build a pick-up bed trailer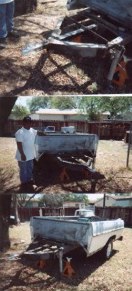 Tr'lr Work performed to perfection by Mario Aguilar



Waiting on the finishing touches; the old girl sports a fresh-engine, new tranny, Dura-Liner (Tm) new bench seat, sand-blasted and rust- proof coated frame, added a used hood and fenders, we completely coated inside the front end with bed liner and under the hood and on the firewalls, radiator support, and inner fenders.

All Rust must die!

Next we'll begin tackling the outside paint job...